Unveiling the Best Boat Tours in Amsterdam: An Insider's Guide
Amsterdam, the charming city known for its artistic heritage, elaborate canal system, and narrow houses, has much more to offer than meets the eye. The best boat tours in Amsterdam are an experience you are unlikely to forget among its many attractions. Imagine yourself drifting on shimmering canals, admiring the city's beauty from a unique, water-level perspective. Sounds enticing.
The city's boat tours are a signature Amsterdam experience and for a good reason. We provide a splendid chance to explore the city's historic canal ring, a UNESCO World Heritage site. As you meander through the waterways, you'll see the city's old and new architectural marvels, vibrant street life, and much more.
Amsterdam's boat tours are a perfect blend of relaxation and sightseeing. We offer a welcome break from the city's bustling streets and a chance to explore the Dutch capital's beauty and history from a new angle. So, are you ready to dive into this unique experience? Let's get started!
The Beauty and Allure of Amsterdam's Canals
Amsterdam's canals are the heart and soul of the city. The city is fondly called the "Venice of the North" for its more than 100 kilometers of canals, 90 islands, and 1500 bridges. The three main canals, Herengracht, Prinsengracht, and Keizersgracht, were dug in the 17th century during the Dutch Golden Age. The radiating canals are a significant part of the city's landscape and contribute significantly to its picturesque charm.
As you crisscross these canals during a boat tour, you'll encounter a city steeped in history and culture. The canals are lined with 17th and 18th-century houses, churches, and warehouses that reflect the city's architectural richness. And it's not just about the buildings. The canals are a vibrant space where life happens. You'll see people cycling, walking, or relaxing by the canal side, adding a dynamic element to the city's charm.
The canals also offer a tranquil escape from Amsterdam's bustling streets. As your boat glides on the serene waters, you'll experience a sense of peace that's hard to match. The gentle lapping of the water, the soft rustle of the trees, and the distant hum of the city—it's a sensory experience that will stay with you long after the tour ends.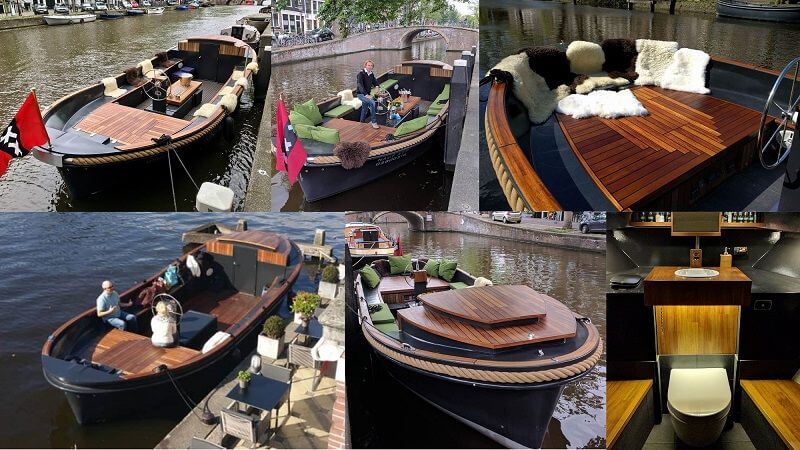 Types of Boat Tours Available
Amsterdam offers a variety of boat tours catering to different tastes and preferences. Whether you are a history enthusiast, a food lover, or looking for a romantic getaway, there's a boat tour just for you.
The standard canal cruises are the most popular. These tours last about an hour and take you around the city's main canals and landmarks. The boats are usually glass-topped, providing you with panoramic views of the city. Some cruises offer audio guides in various languages, giving you an insight into the city's history and architecture.
Then there are themed cruises like dinner, cocktails, or pizza cruises. These cruises combine sightseeing with a delightful culinary experience. Imagine dining on a boat with the city's illuminated skyline as the backdrop. It's an experience you don't want to miss.
For a more personal and flexible experience, you can opt for a private boat tour. These tours allow you to customize your itinerary, decide your start and end points, and even bring your refreshments. If you're looking for a romantic outing or a special celebration, a private boat tour can be perfect.
The Unique Features of Boat
Amsterdam boat tours are not just about sightseeing. They offer a lot more that makes them an unforgettable experience. From the boats themselves to the services onboard, every element adds to the uniqueness of these tours.
Many tour operators use traditional, electric, or hybrid boats that add a touch of authenticity to your tour. Some boats even have a bar, restrooms, and heating systems for a comfortable cruise. The glass rooftops of these boats provide unobstructed views of the city, making your tour a visually delightful experience.
Another unique feature is the themed cruises. These cruises perfectly blend sightseeing, entertainment, and culinary delights. Whether it's the candlelight dinner tour in  cruise, the cocktail party in cruise,  these tours offer a fun and unique way to explore the city.
Lastly, the multilingual guides add an educational element to your tour. They not only navigate you through the canals but also share fascinating stories and facts about the city's history, architecture, and culture. It's a great way to learn about Amsterdam while enjoying its scenic beauty.
Insider's Tips for Choosing the Best Boat Tours
Choosing the best boat tour in Amsterdam can be daunting, given the many options available. But don't worry; we've got some insider tips to help you make the right choice.
First, consider what you want from the tour. A standard city cruise with a knowledgeable guide will be a good fit if you're interested in history and architecture. A dinner or cocktail cruise might be more up your alley if you're a foodie. If you're looking for a romantic or unique experience, a private boat tour would be the way to go.
Second, look at the tour duration and timings. Most standard tours last about an hour, but some themed cruises can take up to two to three hours. Also, consider whether you want to do the tour during the day or evening. When illuminated, the city takes on a different charm in the evening, and an evening cruise can be a magical experience.
Lastly, check the reviews and ratings of the tour operators. This can give you an idea of the quality of their service, the condition of their boats, and the overall experience. Remember, a good tour operator can significantly impact your boat tour experience.
Booking a boat tour in Amsterdam is a straightforward process. Most tour operators offer online booking facilities on their websites. You can browse the different tours, check availability, and book your preferred time slot. Some operators also offer discounts for online bookings, so it's worth checking out.
Alternatively, you can book your tour at the various ticket shops around the city. These shops are usually located near major tourist attractions and offer a range of tours from different operators. This can be a good option if you want to compare the offerings of different operators before making a decision.
Book your tour in advance, especially during the peak tourist season. Boat tours are popular in Amsterdam, and they tend to get booked quickly. Also, keep an eye on the weather forecast. While most boats are equipped to handle a bit of rain, a heavy downpour can disrupt your tour.
What to Expect During an Amsterdam Boat Tour
An Amsterdam boat tour is a unique experience that combines sightseeing, relaxation, and a dash of adventure. But what exactly can you expect during the tour?
As soon as you board the boat, you'll be welcomed by the friendly crew, who will ensure your comfort throughout the tour. Once the boat starts moving, you'll be taken on a journey through the city's enchanting canals. You'll glide past historic houses, beautiful bridges, and vibrant street life, all while soaking in the tranquil ambiance of the canals.
If your boat tour includes a guide, they will share interesting stories and facts about the landmarks you pass by. Some tours also offer audio guides in various languages, allowing you to learn about the city at your own pace.
Depending on your chosen tour, you can enjoy a meal or a drink onboard. These tours usually include a set menu, but some also offer the option to customize your meal. Either way, dining on a boat with the city's stunning skyline as the backdrop is an experience you won't want to miss.
The Best Time to Go on a Boat Tour in Amsterdam
While you can enjoy a boat tour in Amsterdam any time of the year, some periods offer a more memorable experience.
Spring (April to June) is a great time for a boat tour. The city is in full bloom, and the weather is usually pleasant, making it ideal for cruising the canals. Summer (July to August) is another good time, especially for enjoying an evening cruise. The long daylight hours allow you to explore the city in a different light.
Autumn (September to November) offers a unique charm. The changing colors of the leaves create a picturesque backdrop for your tour. However, do keep in mind that the weather can be unpredictable during this period, with occasional rain showers.
Due to the cold weather, Winter (December to February) is the least popular time for boat tours. However, if you're visiting during the festive season, an evening cruise can be a magical experience with the city illuminated with Christmas lights.
The Ultimate Amsterdam Boat Tour Experience
Amsterdam boat tours offer an unparalleled experience. They allow you to explore the city's beauty and history from a unique, water-level perspective. Whether you choose a standard city cruise, a themed cruise, or a private boat tour, you're in for a memorable journey.
With the right planning and the insider tips we've shared, you're well on your way to choosing the perfect boat tour for you. So go ahead, book your tour, and prepare to be enthralled by the charm of Amsterdam's canals. Here's to an unforgettable Amsterdam boat tour experience!
Any Questions or Like to Book?