Take a Classic Boat Tour and Experience the Magic of a Lifetime
Are you ready to go on a trip like another while experiencing the charm of Classic boat tours? If you're visiting Amsterdam, there's no better way to explore the city than by leisurely cruise along its iconic canals. 
Traditional boats offer a unique and enchanting experience, allowing you to see the city from a new view. Whether you're looking for a romantic evening, a historical exploration, or a relaxing day on the water, classic boat tours in Amsterdam are something for everyone.
The charm of classic boat tours in Amsterdam
A traditional boat trip to Amsterdam's canals is the best way to enjoy the city's famed beauty. You may take in the city's beautiful buildings, bridges, and canal homes as you cruise along. 
The gentle rocking of the boat and the soothing sound of the water will transport you to a world of tranquility and relaxation. Whether you're a local or a visitor, you'll be enchanted by the beauty and serenity of Amsterdam's canals.
Private boat tours for a personalized experience
If you want a more personalized experience, a private boat tour is the perfect option. With a private tour, you'll have the entire ship to customize the trip. A private boat trip enables you to tailor the whole thing if you want to travel at your velocity, see certain sights, or have a meal together on deck. 
As you ride along the canals, the guide's full focus will be on you so that they provide fascinating information and stories about the city. With a private boat cruise mode, you may make memories that will last for a lifetime.
Exploring the canals of Amsterdam on a classic boat
You'll be transported back in time as you step aboard a classic boat. These beautifully restored vessels are a testament to Amsterdam's rich maritime history. 
The wooden interiors, elegant furnishings, and traditional design will make you feel like you've entered a bygone era. As you cruise along the canals, you'll be able to see the city from a unique perspective. 
You will meet elegant houseboats, verdant canal-side gardens, and lively waterfront cafes during the ride. The knowledgeable guide on board will provide interesting facts and stories about the canals, giving you a deeper understanding of Amsterdam's history and culture.
Romantic dinner options on a classic boat tour
For a truly memorable and romantic experience, why not enjoy a dinner cruise on a classic boat? Imagine sailing along the canals as the sun sets, with the city's twinkling lights reflecting on the water. 
You and your adored one can enjoy a delicious meal prepared by a private chef while savoring the breathtaking views of Amsterdam. 
Whether you prefer a candlelit dinner for two or a small gathering with friends, a romantic dinner on a classic boat is the perfect way to celebrate a special occasion or create an unforgettable evening.
Classic boat cruises with cheese and wine options
If you're a food and wine enthusiast, a classic boat cruise with cheese and wine options is a must-try experience. Amsterdam is famous for its delicious cheeses, and what better way to enjoy them than on a leisurely boat cruise? 
You'll be able to sample a variety of local cheeses paired with carefully selected wines as you sail along the canals. Combining the rich flavors of the cheese, the smoothness of the wine, and the stunning scenery will create a sensory experience like no other.
Whether you're a seasoned foodie or a first-time away, a cheese and wine boat trip is a fun way to satisfy your senses while discovering more of Amsterdam's mouth watering dining culture.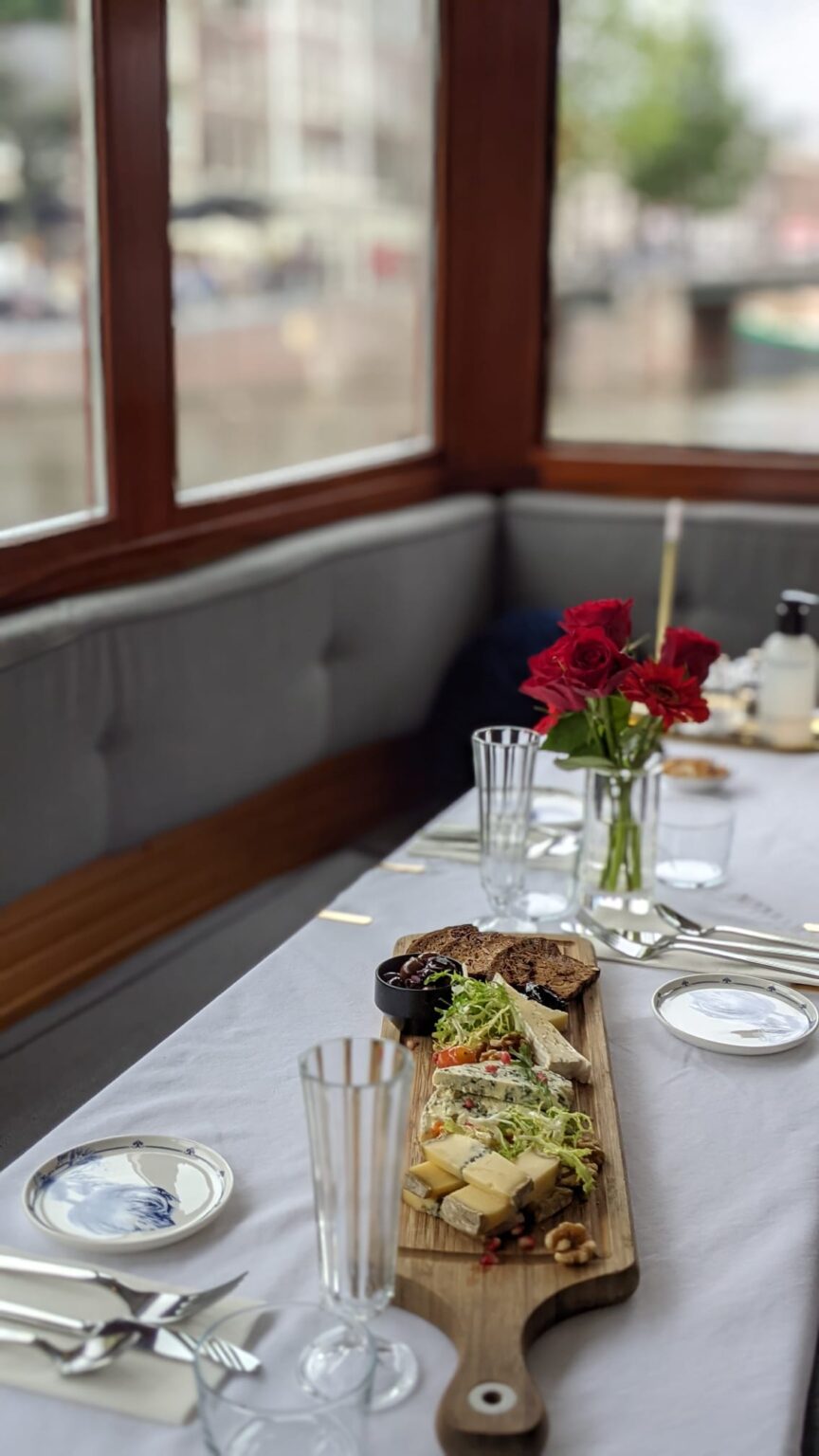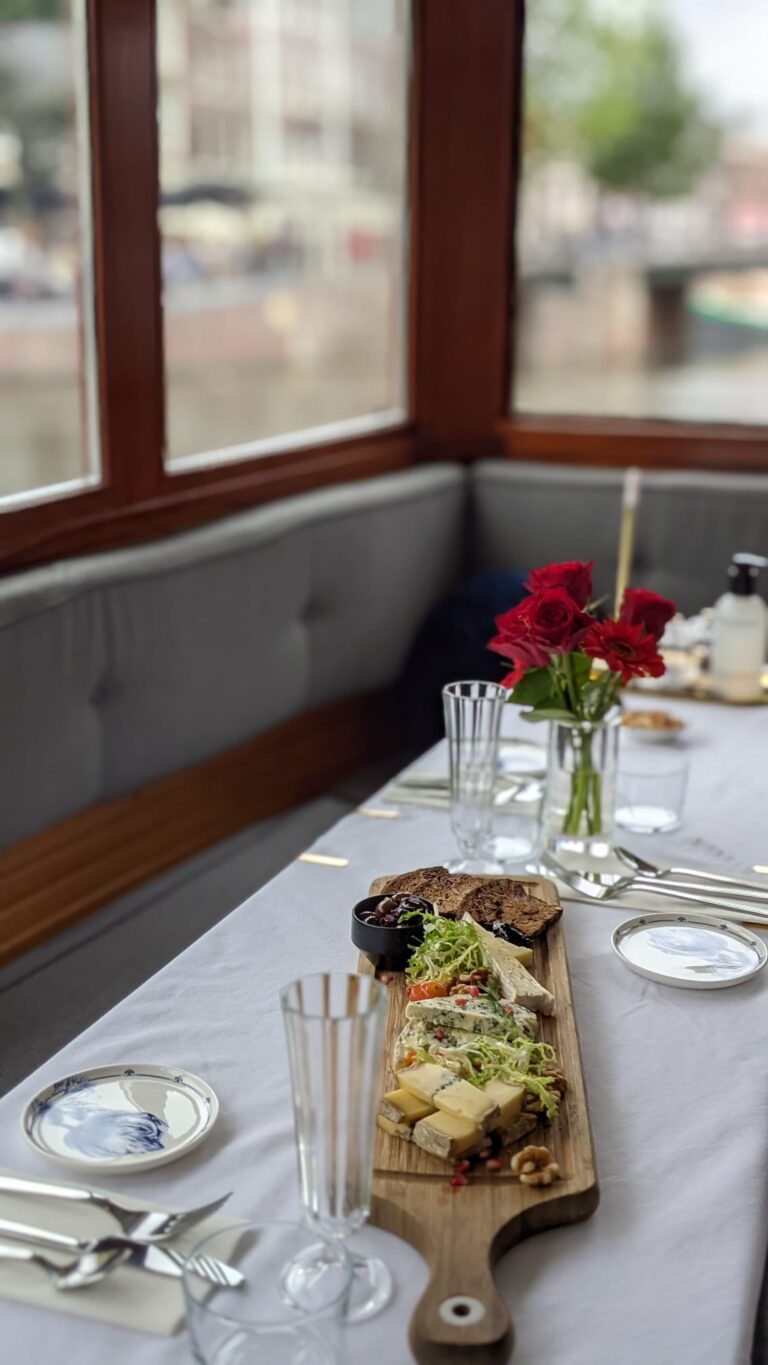 Historical Amsterdam canal trips on classic boats
If you're a history buff, a historical canal trip on a classic boat is a must-do activity in Amsterdam. These specialized tours will take you on a journey through time as you explore the city's rich history and architectural heritage.
The history of the city's canals, the heyday of its commerce and marine industries, and more will all be covered. The Anne Frank House, the Westerkerk, and the Rembrandt House Museum are only a handful of the famous sites you'll come across along the route. 
The knowledgeable guide on board will provide you with fascinating insights and stories, bringing the history of Amsterdam to life.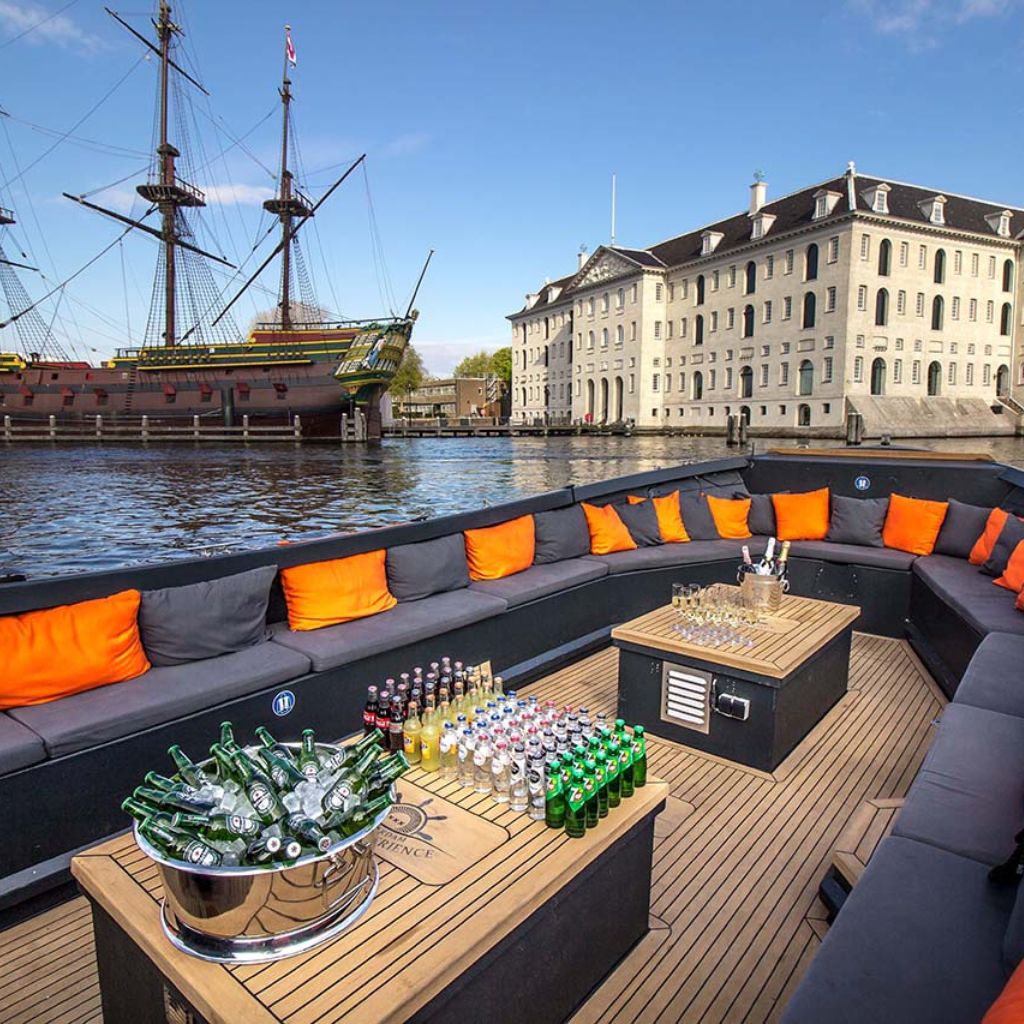 Adventure and luxury on a boat tour in Amsterdam
If you're looking for a more adventurous and luxurious experience, plenty of options are available for boat trips in Amsterdam. From high-speed RIB rides to luxury boat tours, you can take your pick based on your preferences and budget.
Get your pulse-beating experience and see the city in a new light, a RIB ride among the canals is the way to go. A private waterway trip is the ultimate way to unwind in elegance and comfort while having your every whim attended to by a professional crew. 
Amsterdam boat tours may satisfy anyone's need for excitement or relaxation.
Amsterdam city boat tours with knowledgeable guides
One of the highlights of classic boat tours in Amsterdam is the knowledgeable guides who accompany you on your journey. These guides are passionate about the city and its history, and their enthusiasm is contagious.
They have a wealth of knowledge about the canals, the landmarks, and the culture of Amsterdam, and they're eager to share it with you. They'll provide interesting facts, stories, and anecdotes, making your boat tour a truly educational and enriching experience. 
The tour guides help you get the most out of your time in the city by answering any questions and giving you any further information you need.
Unforgettable boat adventures in Amsterdam
Boat trips in Amsterdam are some of the city's most exciting and memorable experiences. 
There are a variety of adventurous activities available in the area, including sailboat trips on the Ijsselmeer, canal kayaking, and paddleboarding. 
These outings will let you see the city in a new light, bring you closer to nature, and excite you to be on the water. So, include a boat ride if you want to liven up your Amsterdam trip.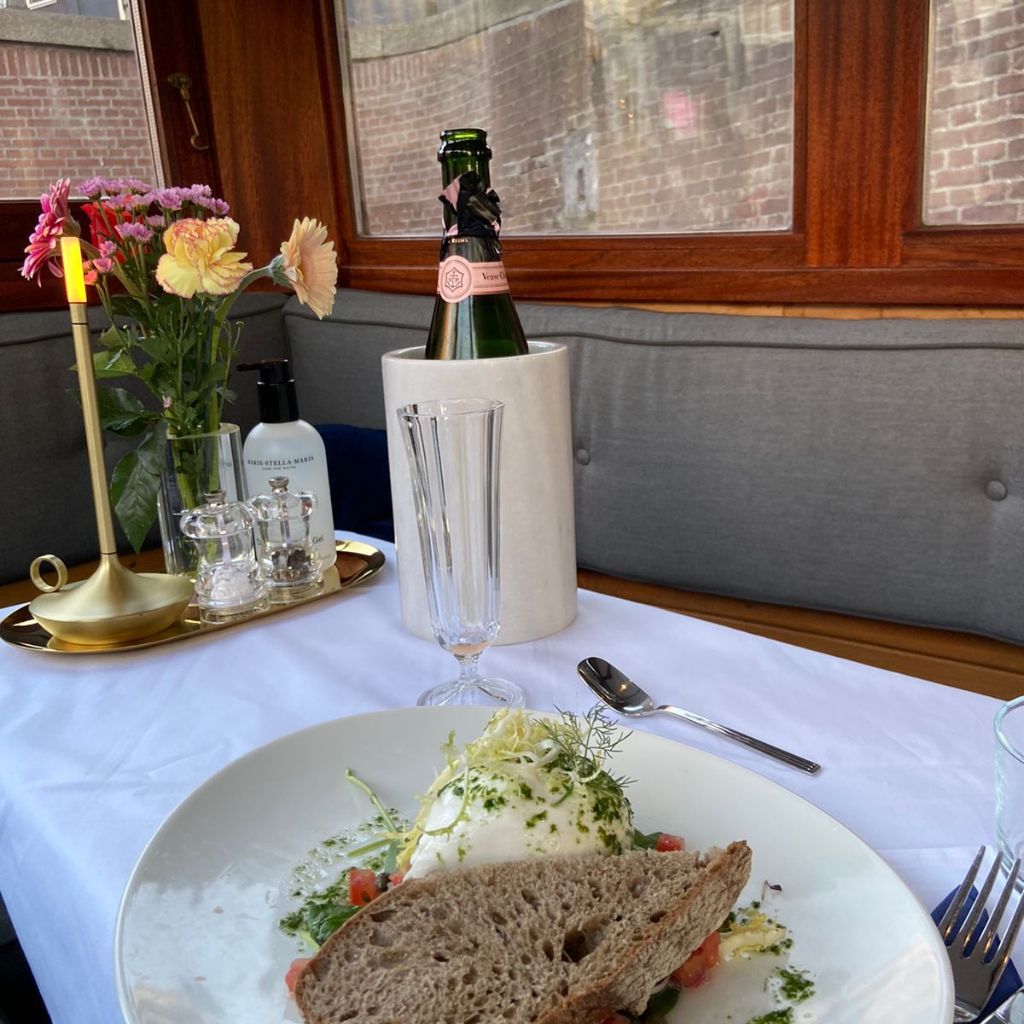 Boat tours with drinks and entertainment
If you're looking for a fun and lively experience, boat tours with drinks and entertainment are the way to go. These tours offer a festive atmosphere, with onboard bars serving various drinks, from local beers to craft cocktails.
Whether you're celebrating a special occasion or want to let loose and have a good time, a boat tour with drinks and entertainment is the perfect choice.
While enjoying your beverage, you may sit back and enjoy the stunning surroundings.
Evening and night boat rides for a magical experience
For a truly magical and enchanting experience, consider taking an evening or night boat ride in Amsterdam. As the sun sets and the city lights up, the canals take on a new level of beauty. 
The twinkling lights reflecting on the water create a dreamlike atmosphere, making it a perfect setting for a romantic evening or a memorable night out with friends. 
You can take a dinner cruise, a cocktail cruise, or a leisurely boat ride under the starry sky. Whatever you choose, an evening or night boat ride in Amsterdam will leave you with memories that will last a lifetime.
Uncover the spell of classic boat tours in the Netherlands
In conclusion, classic boat tours are the perfect choice if you're looking for a unique and enchanting way to explore Amsterdam. 
Whether you're a history lover, a food and wine lover, an adventure seeker, or simply someone who wants to relax and take in the city's beauty, there's a boat tour that will suit your preferences. 
From private tours to romantic dinners and historical explorations to adventurous rides, Amsterdam's classic boat tours offer something for everyone. 
Don't miss an opportunity of experiencing the charm of Amsterdam's legendary classic boat tours and lose out on an adventure of a lifetime. Make plans for a trip you won't soon forget by scheduling a boat.
Any Questions or Like to Book?