The Ultimate Guide to Wine and Cheese Amsterdam Canal Cruises
Get an exclusive guide through the enchanting world of Wine and Cheese in Amsterdam Canal Cruises. Amsterdam boasts a rich heritage, a vibrant culture, art, and, of course, its famed canals.
These waterways, shaping the city's landscape and life, offer you a unique perspective of the Dutch capital.
One of the most delightful ways to explore this city is via an Amsterdam canal cruise. Imagine combining this scenic journey with indulging in the finest wine and cheese. Yes, that's right! Many  cruises offer gourmet experiences that let you savor world-class wines and cheeses. This article
Exploring Amsterdam by Boat
Exploring Amsterdam by boat is a must-have experience for every visitor. As your boat tour of Amsterdam sails through the city's historic canals, you're treated to splendid views of gabled houses, ancient bridges, and iconic landmarks.
Many of these cruises offer guided tours, where you learn about the city's history and its canals, a UNESCO World Heritage site. Whether day or night, a boat tour in Amsterdam promises a memorable journey through the city's heart.
The Charm of the Amsterdam Canals
The charm of the Amsterdam canals lies in their timeless beauty and the history they hold. As you embark on your Amsterdam boat tour, you'll be transported back in time, witnessing the city's evolution from a small fishing village to a bustling metropolis.
These canals are not just waterways; they are the lifeblood of Amsterdam. They've been the city's highways, lifelines, and source of prosperity for centuries.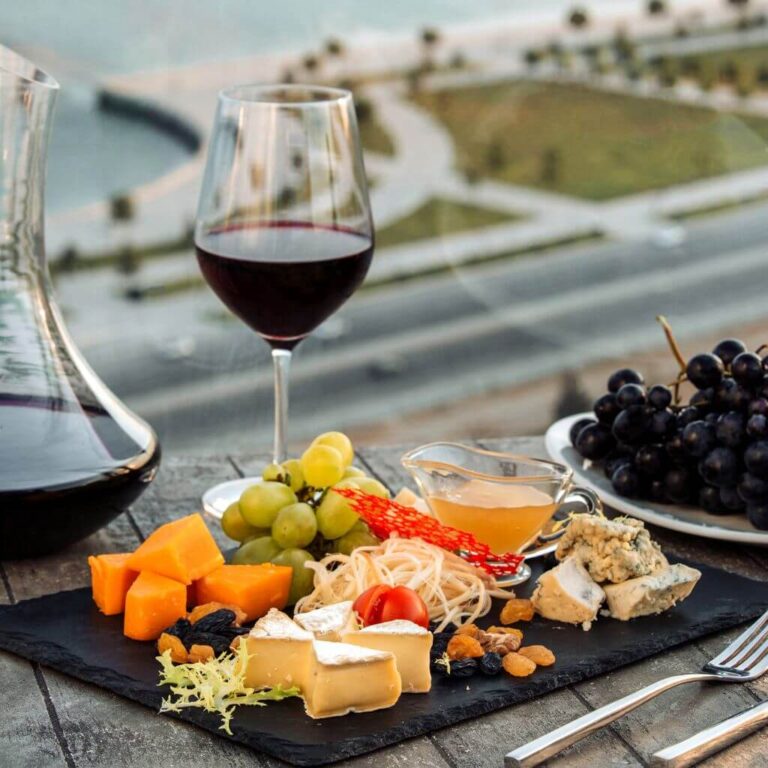 Experience Dinner Cruises in Amsterdam Canals
One of the highlights of an Amsterdam canal tour is the opportunity to experience a dinner cruise. These Amsterdam dinner cruises combine a scenic city tour with a culinary feast, making for a delightful evening.
Most dinner cruises offer a multi-course menu, including local and international dishes. You'll savor your meal as the city's landmarks glide by, adding a touch of magic to your dining experience. And as the sun sets, the city lights reflect off the water, creating a romantic ambiance perfect for a memorable evening.
The Wine and Cheese Experience on Amsterdam Dinner Cruises
You'll have a wine and cheese experience on your dinner cruise to Amsterdam canals. You'll indulge in a selection of the finest wines, each with a cheese that complements its flavor.
The sommelier on board will guide you through the tasting, sharing their expertise on each wine and cheese. Chance to discover new flavors and learn more about the art of wine and cheese pairing. 
So sit back, savor the wine and cheese, and let the Amsterdam canals provide a picturesque backdrop to your gourmet experience.
A Taste of Dutch Delicacies
On board these cruises, you can sample some of the finest Dutch cheeses paired perfectly with a selection of wines. From creamy Gouda to tangy Old Amsterdam, the cheese platter will take you on a gastronomic journey through the Netherlands. 
Complementing the cheeses are carefully selected wines, ranging from crisp whites to full-bodied reds. Non-alcoholic beverages are also available for those who prefer them.
Best Canal Tours Amsterdam Offers
Amsterdam offers a variety of canal tours, each designed to provide an unforgettable experience. Some focus on the city's history and architecture, while others offer themed cruises like the wine and cheese tour or the candlelight cruise.
Regardless of the tour you choose, you'll be treated to the same magnificent views of the city. So whether you're a history buff, a foodie, or just someone looking to enjoy a relaxing cruise, an Amsterdam canal tour is perfect for you.
How to Book a Boat Tour in Amsterdam
Booking a boat tour in Amsterdam is easy. You can do it online, where you'll find various options to suit your preferences and budget. When choosing a tour, consider the duration, the route, the type of boat, the course, and the menu if you're opting for a dinner cruise.
Once you've made your choice, you must make a booking, get your confirmation, and show up at the designated spot on time. It's that simple! Book in advance, especially during peak season, to ensure you get your desired cruise.
Highlights of the Amsterdam Canal Cruise
Each cruise offers its unique experience, but some common highlights include:
The UNESCO Heritage-listed Canals:

These canals are a testament to Amsterdam's rich history and are a sight to behold.

The Skinny Bridge:

This charming bridge is a favorite among locals and tourists.

The Golden Bend:

This stretch of the Herengracht is known for its grand, 17th-century canal houses.

The Anne Frank House:

The former hiding place of Anne Frank and her family is a poignant reminder of the city's history.
What to Expect on an Amsterdam Boat Tour
On your Amsterdam boat tour, expect to be wowed by the city's beauty, history, and vibrant atmosphere. As your boat glides through the canals, you'll see the city from a unique vantage point, offering views you can't get from the street.
If you're on a dinner cruise, expect a delicious meal, excellent service, and a cozy ambiance. And, of course, if you're on a wine and cheese cruise, expect an indulgent culinary journey that tantalizes your taste buds.
The Wine and Cheese Amsterdam Canal Cruise Tour Experience
This trip experience often varies depending on the operator. Most cruises last around 1.5 to 2 hours and include unlimited drinks and a cheese platter. Some cruises include additional snacks or even a full meal.
Tips for an Unforgettable Wine and Cheese Amsterdam Canal Cruise Tour
 To make the most of your wine and cheese canal cruise in Amsterdam, here are some tips
Dress appropriately:

The weather in Amsterdam can be unpredictable, so it's best to dress in layers.

Arrive early:

To get the best seats, arrive at least 15 minutes before the cruise starts.

Don't forget your camera:

The canals of Amsterdam are incredibly picturesque, so don't forget to capture the memories.
Whether you're a wine connoisseur, a cheese lover, or someone looking for a unique way to explore the city, this cruise offers something for everyone. So, why wait? Prepare for an exceptional journey through the city's iconic waterways.
Savor the Finest Wine and Cheese on Amsterdam Canal Cruises
Amsterdam canal cruises offer a unique way to explore the city while indulging in the finest wine and cheese. Whether a first-time visitor or a seasoned traveler, a wine and cheese cruise is an experience, you don't want to miss. So go ahead, book your cruise, and get ready to savor the finest Amsterdam offers.
Any Questions or Like to Book?