Navigating the City of Canals: Unveiling the Charm of Luxury Canal Cruise Amsterdam
Introduction to Amsterdam: The City of Canals
Floating throgh the canals on a luxury canal cruise in Amsterdam. Amsterdam, fondly known as the "City of Canals," is a vibrant tapestry of culture, history, and scenic beauty. With its labyrinth of waterways and bridges, this bustling metropolis offers an enchanting perspective of Dutch life. The city's unique charm lies not only in its artistic heritage, stunning architecture, and historic windmills but also in the picturesque canals that crisscross its heart.
These waterways, a UNESCO World Heritage Site, are not just a means of transport but also a way of life. From the grand houses that line their banks to the charming boutiques and quaint cafes that dot the streets, Amsterdam's canals are a living testament to the city's rich past. They offer a serene escape from the hustle and bustle of the city, a place where one can relax, unwind, and immerse themselves in the captivating beauty of Amsterdam.
The best way to experience the magic of these waterways is on a luxury canal cruise in Amsterdam. Not only does this allow one to explore the city from a unique vantage point, but it also provides an opportunity to delve into the history and culture of this incredible city while enjoying the comforts of a luxury cruise.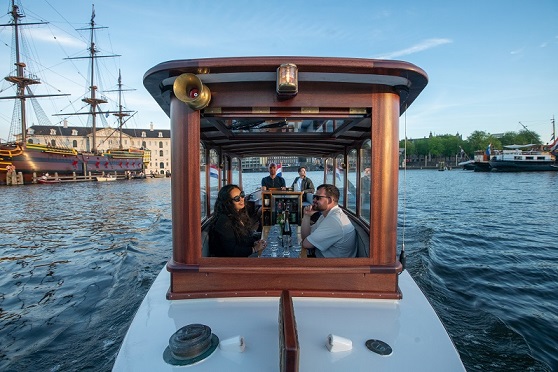 The allure of a luxury canal cruise in Amsterdam
A luxury canal cruise in Amsterdam is more than just a sightseeing tour; it's an experience. Imagine gliding through the tranquil waters of the city's canals, with the stunning architecture of Amsterdam as your backdrop. As the sun sets, casting a golden hue over the city, you can sit back, relax, and soak in the breathtaking scenery while sipping on a glass of fine wine or a cup of aromatic coffee.
The allure of a luxury canal cruise in Amsterdam lies not only in the magnificent views it offers but also in the sheer comfort and opulence that it provides. With spacious decks, plush seating, and gourmet dining options, these cruises provide an unmatched level of luxury. Whether you're seeking a romantic getaway, a family adventure, or a unique way to entertain business associates, a luxury canal cruise in Amsterdam is the perfect choice.
Moreover, these cruises offer a plethora of options to suit every traveler's needs. From sunset cruises that capture the city's ethereal beauty to private dining experiences that offer culinary delights, there's a luxury canal cruise in Amsterdam to match every mood and occasion.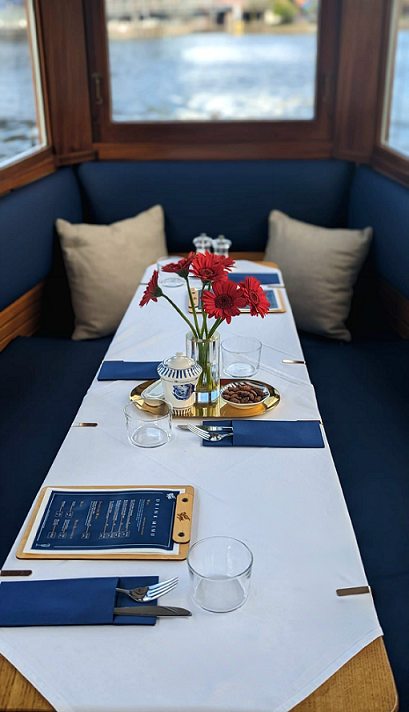 Experiencing Amsterdam's history through a luxury canal cruise
A luxury canal tour in Amsterdam is not just about comfort and luxury; it's also a journey through time. As you sail through the city's historic waterways, you are privy to the rich tapestry of Amsterdam's past. The grand canal houses that line the waterways, the historic bridges, and the iconic windmills all tell tales of a bygone era.
These cruises often include expert guides who regale passengers with interesting anecdotes and fascinating facts about the city's history and culture. From the origins of the city in the 12th century to the Golden Age of the 17th century, a luxury canal cruise in Amsterdam provides a unique insight into the city's past.
Moreover, some luxury cruises offer special themed tours that focus on specific aspects of Amsterdam's history, such as the city's artistic heritage, its maritime past, or its role in the diamond trade. These tours provide an in-depth exploration of the city's history, making a luxury canal cruise in Amsterdam a must for history buffs and culture enthusiasts.
Best time for a luxury canal cruise in Amsterdam
Amsterdam's canals are enchanting at any time of the year. However, the best time for a luxury canal cruise in Amsterdam largely depends on what you want to see and experience. If you wish to see the city in full bloom, spring (April to June) is the best time. The city's gardens are awash with colorful tulips and the weather is perfect for a leisurely cruise.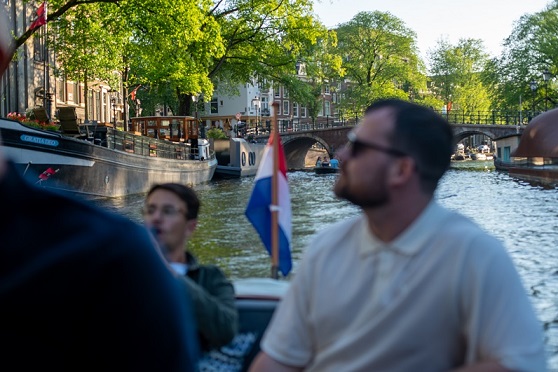 Summer (July to September) is also a great time for a cruise as the days are long and the city is bustling with festivals and events. Autumn (October to November) offers a different kind of beauty as the city is adorned with hues of orange and gold, making for a picturesque cruise.
Winter (December to March) brings its own charm. The canals may freeze over, turning them into skating rinks. However, a luxury canal cruise in Amsterdam is still possible, offering a unique perspective of the city under a blanket of snow.
What to expect on a luxury canal cruise in Amsterdam
A luxury canal cruise in Amsterdam promises an unforgettable journey filled with stunning views, historical insights, and unmatched comfort. As you board the luxurious vessel, you're greeted with a warm welcome and ushered into a world of elegance and opulence.
The cruise takes you through Amsterdam's most iconic canals, offering panoramic views of the city's stunning architecture and picturesque landscapes. Whether you're cruising through the grand Herengracht, the charming Prinsengracht, or the bustling Amstel, every moment is an opportunity for a stunning photograph or a cherished memory.
Onboard, you can enjoy a host of amenities designed for your comfort and pleasure. From plush seating areas and open-air decks to gourmet dining options and a well-stocked bar, every detail is tailored to ensure a luxurious experience.
Highlights of a luxury canal cruise in Amsterdam
A luxury canal cruise in Amsterdam offers a host of highlights that make it a memorable experience. From the moment you embark on the cruise, you're treated to stunning views of the city's iconic landmarks such as the Anne Frank House, the Rijksmuseum, the Royal Palace, and the famous 'Seven Bridges'.
As you glide through the tranquil waters of the canals, you can marvel at the grand canal houses, many of which date back to the 17th century. These architectural gems, with their ornate gables and elegant facades, are a sight to behold.
Another highlight of a luxury boat tour in Amsterdam is the gourmet dining experience. Whether you're enjoying a romantic dinner for two or a lavish buffet with friends, the culinary delights on offer are sure to tantalize your taste buds.
Tips for enjoying your luxury boat tour in Amsterdam
To make the most of your luxury private boat ride in Amsterdam, here are a few tips:
Choose the right cruise: With a variety of luxury canal cruises available, it's important to choose the right one. Consider what you want from the cruise – a romantic dinner, a historical tour, a sunset cruise – and choose accordingly. Saloon boat Undine from boat company Boatboys is a perfect boat for couples and smaller groups.
Dress appropriately: Evenings can get chilly, especially in the open-air decks. So, don't forget to carry a light jacket or shawl.
Don't forget your camera: The cruise offers numerous photo opportunities. So, make sure to have your camera ready to capture the stunning views.
Arrive early: Arrive at least 10 minutes before your cruise departure time. This ensures you have enough time to board the vessel and settle in.
Conclusion: Why a private luxury canal boat tour is the best way to see Amsterdam
A luxury canal boat tour in Amsterdam offers a unique way to see the city. It combines the thrill of sightseeing with the comfort and luxury of a high-end cruise. As you glide through the city's historic canals, you are treated to stunning views, fascinating history, and gourmet dining. It's an experience that captures the essence of Amsterdam, making it an unforgettable journey. So, when in Amsterdam, don't miss out on the luxury canal cruise – it's the best way to see the city.
Questions?
Any further questions? Feel free to contact us via Whatsapp or phone call on +31 6 390 510 68 or email us at info@boat-rental.amsterdam. We are looking forward to receive your inquiry!