Experience the Ultimate Nightlife Adventure: Party Boat Rental in Amsterdam
 If you want an extraordinary experience, why not rent a party boat in Amsterdam? Whether celebrating a special occasion or simply wanting to have a fantastic night out with friends, a party boat rental in Amsterdam offers the perfect combination of fun, luxury, and breathtaking views. In this article, we'll guide you through the process of planning the ultimate boat party, provide you with exciting games and activities to make your experience unforgettable, share tips for creating a festive atmosphere with boat party decorations, explore the Amsterdam nightlife from the water, and highlight the benefits of renting a party boat in this beautiful city. So, get ready to set sail on a night to remember!
Planning the Ultimate Boat Party in Amsterdam
Renting a party boat in Amsterdam is the first step towards an amazing adventure. Before you embark on this exciting journey, planning your boat party to ensure everything goes smoothly is important. Start by determining the number of guests you'll be inviting. Whether hosting an intimate gathering or a larger celebration, party boats are available in various sizes to accommodate your needs.
Next, consider the duration of your boat party. Most party boat rentals in Amsterdam offer different time slots, ranging from a few hours to a full day. Think about how long you'd like to enjoy the Amsterdam canals and factor in time for dining, entertainment, and sightseeing.
Once you have the basics covered, it's time to consider the details that will make your boat party unforgettable. Consider hiring a DJ or creating a playlist of your favorite tunes to keep the party going. To add excitement, you can also plan themed parties, such as a masquerade ball or a tropical luau. Don't forget to check if the party boat rental company provides additional services, such as catering or photography, to enhance your experience.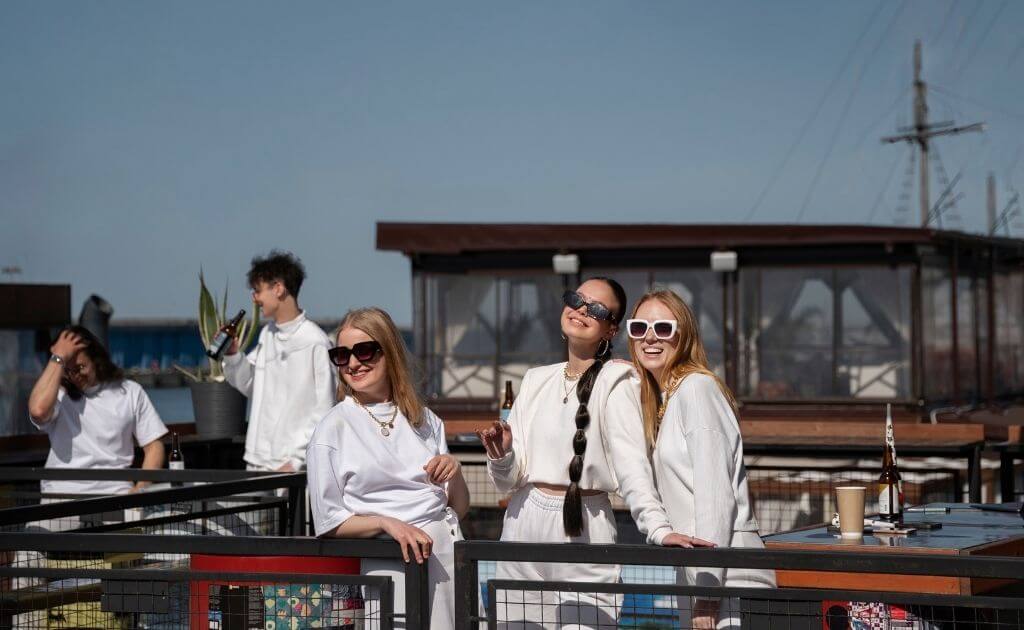 Boat Party Games and Activities to Make Your Experience Unforgettable
A party boat rental in Amsterdam is not just about cruising along the canals. It's an opportunity to engage in exciting games and activities that will create lasting memories. Here are some ideas to make your boat party unforgettable:
Karaoke Battles: Bring out the inner diva in your friends by organizing a karaoke battle on board. Sing your favorite tunes and compete for the title of the ultimate karaoke champion.
Themed Costume Contests: Encourage your guests to come dressed in their most creative costumes. From superheroes to movie characters, a themed costume contest adds fun and excitement to your boat party.
Trivia Quizzes: Test your friends' knowledge with a trivia quiz. Create questions about Amsterdam, music, movies, or any other topic that interests your group. Offer prizes for the winners to keep the competition fierce.
Dance-offs: Clear the deck and let the dance floor come alive. Have a friendly dance-off where everyone can showcase their best moves. You can even hire professional dancers to teach a few dance routines to your guests.
Remember, the key to a successful boat party is to keep the energy and entertainment flowing. Be creative and think outside the box to ensure your guests have an unforgettable experience.
Boat Party Decorations to Create a Festive Atmosphere
Consider decorating the boat with festive decorations to set the mood for your boat party in Amsterdam. Here are some ideas to transform your party boat into a vibrant and lively space:
String Lights:

Hang string lights around the boat to create a magical ambiance. Choose colored lights to match your party theme or classic white lights for an elegant touch.

Balloons:

Fill the boat with colorful balloons to add a festive vibe. You can even have helium-filled balloons floating above the dance floor for an eye-catching effect.

Streamers and Banners:

Hang streamers and banners along the walls or railings of the boat. Use colors that complement your party theme and incorporate personalized messages or images to make it extra special.

Table Centerpieces:

Spruce up the dining area with stylish table centerpieces. Consider using flowers, candles, or themed decorations that reflect the atmosphere you want to create.
Remember, decorating a party boat is about creating an immersive experience for your guests. Think about the overall theme and ambiance you want to achieve, and let your creativity run wild.
Food and Drink Options on a Party Boat
A party boat rental Amsterdam wouldn't be complete without delicious food and refreshing drinks. When planning your boat party, consider the following options:
Catering Services:

Many party boat rental companies offer catering services, allowing you to enjoy a hassle-free dining experience. From finger foods to gourmet meals, you can choose a menu that suits your preferences and budget.

DIY Buffet:

Choose a DIY buffet if you prefer a more hands-on approach. Assign a designated area on the boat for a self-serve spread of appetizers, snacks, and drinks. This not only saves costs but also allows guests to customize their plates.

Bar Services:

To keep the party going, consider hiring a bartender or setting up a self-service bar. Stock it with various alcoholic and non-alcoholic beverages, including signature cocktails that match your party theme.
Remember to check with the party boat rental company if they have any restrictions or requirements regarding food and drinks. Some companies may partner with specific catering services or provide their onboard bar service.
Exploring the Amsterdam Nightlife on a Party Boat
One of the greatest advantages of a party boat rental in Amsterdam is the opportunity to explore the city's vibrant nightlife from a unique perspective. As the sun sets and the city lights up, your boat party becomes a floating club on the water. Here are some ways to make the most of the Amsterdam nightlife on a party boat:
Cruise Along the Canal Belt:

The UNESCO-listed Canal Belt is the heart of Amsterdam's nightlife. Cruise along the picturesque canals, passing iconic landmarks and bustling bars and restaurants. Enjoy the vibrant atmosphere and stunning views as you navigate through this lively part of the city.

Dock at Popular Nightlife Hotspots:

Many party boats in Amsterdam offer the option to dock at popular nightlife hotspots. This allows you and your guests to hop off the boat and continue the party at some of the city's trendiest clubs and bars. Dance the night away or enjoy live music performances as you explore the vibrant Amsterdam nightlife scene.

Themed Party Cruises:

Some party boat rentals in Amsterdam offer themed party cruises that cater to specific music genres or events. There's a themed party cruise for every taste, from techno and house music parties to salsa nights or even silent discos. Check with the rental company for upcoming events and book your tickets early to secure your spot.
Remember to plan your boat party itinerary, considering the operating hours of the canals and any specific regulations or guidelines provided by the party boat rental company. This way, you can ensure a seamless experience and make the most of your time on the water.
Safety Guidelines and Regulations for Party Boat Rentals
Safety should always be a priority when renting a party boat in Amsterdam. To ensure the well-being of you and your guests, it's important to follow safety guidelines and regulations. Here are some key points to keep in mind:
Life Jackets:

Make sure that life jackets are available on board for every guest. Familiarize yourself with their location and ensure that they are easily accessible in case of an emergency.

Designated Smoking Areas:

Smoking is prohibited on most party boats in Amsterdam. However, some boats may have designated smoking areas. Respect the rules and ensure that smoking is only done in the designated areas to prevent fire hazards.

Capacity Limitations:

For safety reasons, every party boat has a maximum capacity limit. Make sure you adhere to this limit and avoid overcrowding the boat. This ensures that there is enough space for everyone to move around safely.

Emergency Procedures:

Familiarize yourself with the emergency procedures provided by the party boat rental company. Be aware the position of emergency doors, fire extinguishers, and first aid kits.. In an emergency, remain calm and follow the instructions provided by the boat staff.
By following these safety guidelines and regulations, You can make sure that everyone on board is safe and has fun.
Benefits of Renting a Party Boat in Amsterdam
Party boat rental  Amsterdam offers numerous benefits that create an unforgettable experience. Here are some advantages of opting for a party boat rental:
Unique Experience:

A party boat rental allows you to celebrate uniquely and memorably. The combination of cruising the Amsterdam canals, enjoying breathtaking views, and dancing the night away creates an experience like no other.

Flexibility:

With a party boat rental, you can customize your event according to your preferences. From choosing the duration of the party to selecting the entertainment and catering options, you have full control over the experience.

Privacy:

Renting a party boat provides you and your guests with a private space. Unlike crowded clubs or bars, you can enjoy an intimate gathering or a lively celebration without the interference of strangers.
Stunning Views: Amsterdam's canals are a UNESCO World Heritage site, and cruising along them offers stunning views of the city's architecture, bridges, and waterfronts. Capture breathtaking photos and enjoy the beauty of Amsterdam from a different perspective.
Luxury Party Boat Rentals in Amsterdam
If you want to take your boat party to the next level, consider renting a luxury party boat in Amsterdam. These boats offer a range of premium amenities and services that elevate your experience to new heights. From spacious lounges and sun decks to state-of-the-art sound systems and professional lighting, luxury party boats provide the ultimate setting for a glamorous night out.
Some luxury party boats in Amsterdam also offer services like fine dining experiences, VIP treatment, and personalized event planning. You can relax and enjoy a luxurious and memorable boat party with a dedicated staff to cater to your every need.
Renting a party boat in Amsterdam is an experience that combines the excitement of a night out with the beauty of the city's canals. From planning the ultimate boat party to exploring Amsterdam's nightlife, there are endless possibilities to make your party unforgettable. Whether you opt for a private party boat, engage in thrilling games and activities, or decorate the boat to create a festive atmosphere, the key is to let your creativity run wild. So, gather your friends, set sail on a party boat adventure, and experience the ultimate nightlife in Amsterdam. Rent a party boat in Amsterdam today and embark on a night to remember!
Any questions or Like to book?