Navigating the Magic: Your Complete Guide to Amsterdam's Night Canal Cruise
Amsterdam, the city of canals, offers a magical experience that will envelop you in its charm – the Night Canal Cruise. It's a journey through the city's heart under starlit skies when the bridges light up and the cityscape takes on a surreal glow. You'll feel like you've stepped into a fairy tale, with the twinkling lights reflecting off the quiet waters, making it an unforgettable experience.
There's something about the night that amplifies the beauty of Amsterdam. Lined with 17th-century houses, the canals become even more enchanting under the moonlight. The city is renowned for its artistic heritage, elaborate canal system, and narrow houses with gabled facades. But the night canal cruise truly brings out the city's romantic soul.
This unique experience is a must for anyone visiting Amsterdam. It's an opportunity to see the city from a different perspective, discover hidden gems, and immerse yourself in its history and culture. So hop on board, let the cool breeze run through your hair, and let the city's magic enchant you.
Why Experience a Night Canal Cruise in Amsterdam?
You may wonder why you should choose a night canal cruise over a daytime one. There's something incredibly special about cruising along Amsterdam's canals under the starry sky. The city comes alive differently at night; the streets are quieter, the lights are brighter, and the atmosphere is more mystical.
During the cruise, you'll pass under numerous bridges, some of which are beautifully illuminated. The reflections of these lights on the water create a fantastic sight that is a photographer's dream. The light's glow, the moonlit sky, and the night's silence create an ethereal atmosphere you cannot experience during the day.
Moreover, a night canal cruise also lets you see some of Amsterdam's most iconic landmarks beautifully lit up. The Royal Palace, Anne Frank House, and the Rijksmuseum are just a few landmarks that look stunning at night.
What to Expect on a Canal Cruise
A night canal cruise in Amsterdam is not just about the breathtaking views. It's also about the unique experiences that come with it. Most cruises offer a live guide who provides fascinating insights about the city's history, culture, and architecture. You'll learn about the city's Golden Age, famous inhabitants, and iconic buildings.
The cruise usually lasts about an hour and a half, giving you plenty of time to soak in the city's sights and sounds. You'll pass by the city's three main canals: the Herengracht, Keizersgracht, and Prinsengracht. You'll also see the city's famous 'Dancing Houses,' the beautifully lit-up Magere Brug (Skinny Bridge), and the iconic Westerkerk.
While the views are the main attraction, the comfort and luxury of the canal boats are also worth mentioning. Most boats have comfortable seating, heating for chilly nights, and panoramic windows for unobstructed views. Some cruises even offer drinks and snacks, allowing you to enjoy wine as you sail through the city.
The Magic of Amsterdam's Canals at Night
Amsterdam's canals are magical at any time of the day, but they take on a whole new charm at night. The waterways, once the city's lifelines, are now its star attractions. At night, they transform into a mesmerizing network of shimmering waterways, each bend and corner revealing a new spectacle.
As you glide through the canals, you'll notice how the city's architectural treasures – its narrow houses, ornate bridges, and historic monuments – become even more beautiful under the ambient lighting. The city's skyline, with its modern and traditional buildings, looks stunning against the night sky.
But it's not just about the sights. It's also about the feeling of tranquility that comes with a night canal cruise. As you sail through the quiet canals, away from the hustle and bustle of the city, you'll feel a sense of peace and serenity. It's a moment to relax, reflect, and enjoy Amsterdam's beauty.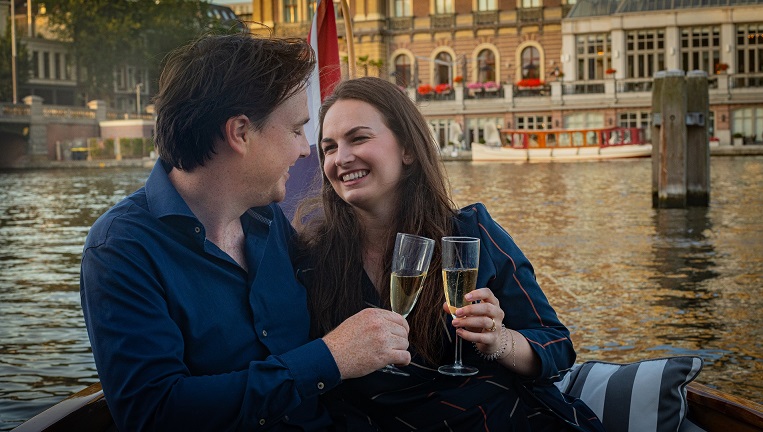 Booking Your Night Canal Cruise: Important Tips
When it comes to booking your night canal cruise, there are a few things you need to keep in mind. Firstly, booking your cruise in advance is recommended, especially during the peak tourist season. Amsterdam's night canal cruises are popular, and tickets can sell out quickly.
Secondly, check the weather forecast for the evening of your cruise. While the boats have heating and coverings, it's always better to be prepared for rain or chilly temperatures. Dressing in layers is a good idea, as it can get quite cool on the water, even in summer.
Lastly, choose a cruise that suits your preferences. Some cruises offer dinner or drinks, while others focus more on history and culture. If you're traveling with kids, look for a family-friendly cruise. And if you're looking for a romantic experience, opt for a candlelight cruise. It's all about making the experience memorable for you.
Highlights of Amsterdam's Night Canal Cruise Trip
One of the main highlights of a night canal cruise is seeing Amsterdam's landmarks beautifully illuminated. The Royal Palace, for instance, is a sight to behold when it's lit up at night. The same goes for the Anne Frank House, the Rijksmuseum, and the Westerkerk.
The 'Dancing Houses' along the canals are another highlight. These tilted houses, also known as the 'drunken houses,' are a quirky feature of Amsterdam's architecture. At night, they take on a whimsical charm that is truly fascinating.
The illuminated bridges are also a major attraction. There are over 1,500 bridges in Amsterdam, and seeing them lit up at night is a magical experience. The Magere Brug, or the Skinny Bridge, is especially beautiful. This white, wooden bridge, with its fairy-tale-like lights, is a sight you'll remember for a long time.
What to Bring for Your Night Canal Cruise
When preparing for your night canal cruise, it's important to pack smart. Here are a few things you should bring:
Warm Clothing

: Even in summer, it can get quite cool on the water. Bring a jacket or a sweater to keep you warm. Don't forget your hat and gloves if you're traveling in winter.

Comfortable Shoes

: You'll walk to and from the boat and possibly explore the city after the cruise. Comfortable shoes are a must.

Camera

: You'll want to capture the beautiful views and memorable moments. A camera or a smartphone with a good camera is essential.

Rain Gear

: Amsterdam's weather can be unpredictable. It's always a good idea to carry an umbrella or a raincoat.
Snacks and Drinks: Some cruises offer snacks and drinks, but it's always good to have your own, just in case.
Evening Boat Tour Amsterdam: A Magical Experience
The happiness of witnessing a sunset in Amsterdam can be experienced in countless ways, but an evening cruise along the peaceful canals elevates this enjoyment to an extraordinary span. Visualize yourself on an evening boat tour in Amsterdam, effortlessly floating amidst the city's signature architecture as the heavens morph into a canvas with vivid hues. The subtle sway of the boat, completed by the soft shimmer of streetlights mirrored on the water's surface, and your dear one's presence transforms this into an enchantingly magical adventure.
What To Expect On An Evening Canal Cruise In Amsterdam
Venturing out on an evening canal cruise in Amsterdam promises a journey of enchantment and allure that stays etched in your memory. Typically spanning two hours, these Amsterdam evening canal cruises ensure plenty of time to immerse yourself in the ambiance and revel in the sights. The boats are meticulously designed for comfort and offer an unrivaled perspective to appreciate the city's remarkable architecture and the ever-changing hues of the sky.
Most evening canal cruise services in Amsterdam include multilingual audio commentary, offering captivating narratives about the city's past, landmarks, and culture. You'll pass by notable locations as you float along the canals during this unique dinner experience. With a four-course dinner and drinks included in your Amsterdam evening canal cruise package, it enhances this unforgettable journey under the stars.
Evening Cruise Amsterdam : The Best Views In Amsterdam For Watching The Sunset
Amsterdam, a city teeming with remarkable locations to witness the stunning beauty of a sunset, hosts evening cruises that offer breathtaking views. A favorite among these is the renowned Magere Brug, or Skinny Bridge, as it's commonly known.
The Skinny Bridge, with its graceful structure and scenic surroundings, offers an extraordinary view of the sun gently disappearing below the horizon. An evening cruise in Amsterdam would only be complete by passing this iconic bridge during sunset.
Another spectacular spot is the Westerkerk, a masterpiece of architecture in the Jordaan neighborhood. A climb to the top of this church tower rewards you with an expansive view of Amsterdam's skyline silhouetted against a setting sun. It's an unmatched experience for those seeking to revel in a glorious sunset.
If you're looking for something more elevated, go to A'DAM. Additional tips For the romantic couples, take advantage of experiencing the city's skyline as the sun goes down and gives way to enchanting nocturnal hues.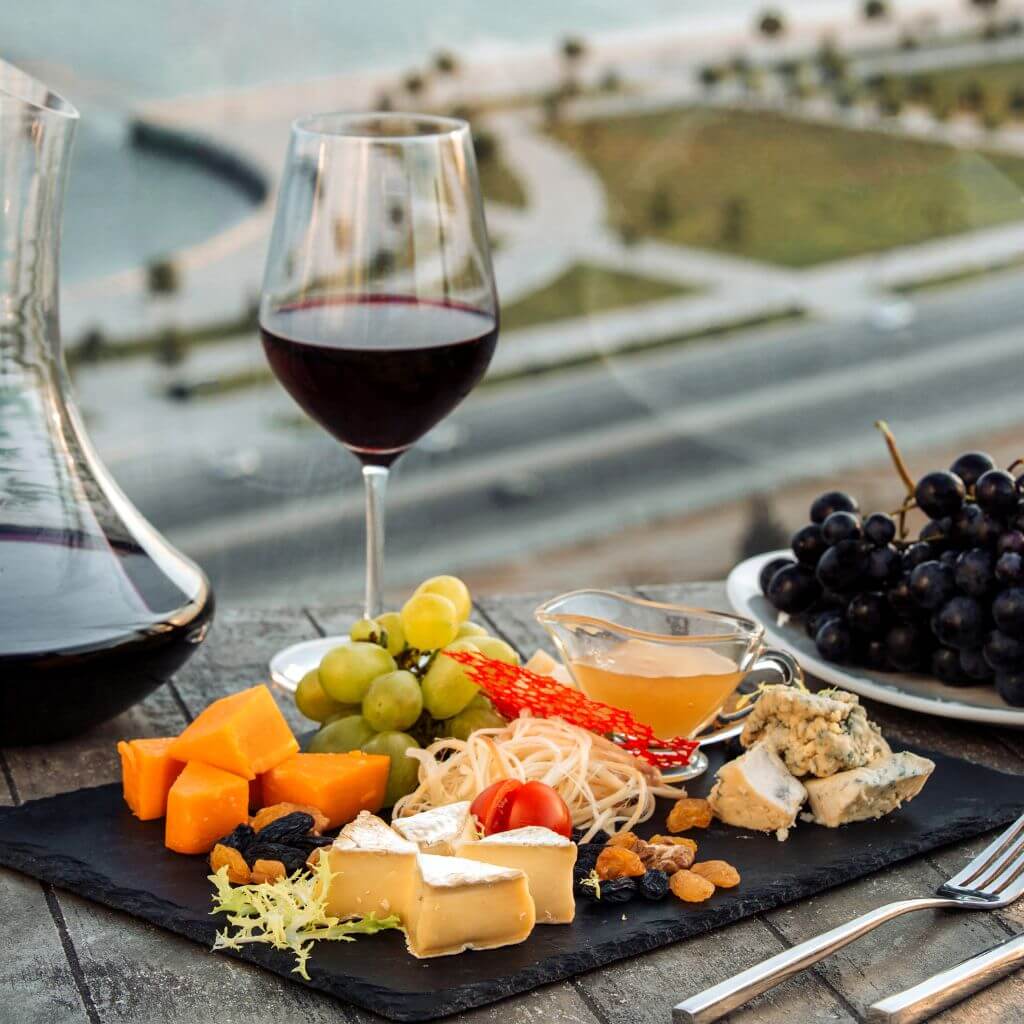 Dining Options During the Night
While some night canal cruises in Amsterdam offer snacks and drinks, others offer full-course meals. A dinner cruise is a great option if you're looking for a truly unforgettable experience. You'll enjoy a delicious meal while cruising through the city's beautiful canals.
The menu usually includes a variety of Dutch and international dishes prepared by experienced chefs. You can expect to try dishes like smoked salmon, Dutch cheese, and traditional Dutch stew. Vegetarian options are also available.
Of course, the meal is accompanied by fine wines, beers, and non-alcoholic drinks. And for dessert, you can enjoy a traditional Dutch treat – stroop wafel or apple pie. It's a gastronomic journey that complements the visual feast of the cruise.
Amsterdam Canal Cruises With Drinks: Enhancing The Experience
Consider opting for an evening canal cruise incorporating various drinks to enhance your night boat tour experience in Amsterdam. Numerous canal cruises with drinks in this charming city provide an array of refreshments, encompassing everything from wine and champagne to exotic cocktails. As you savor your preferred beverage, watch the sun gently fade behind Amsterdam's iconic landmarks, adding an element of elegance and romance.
Celebrate the breathtaking beauty of Amsterdam and the unforgettable moments you're crafting while relishing the company of your companion. It's the ideal way to relax and allow the enchantment of the sunset to envelop you on these captivating canal cruises.
To make the most of your night canal cruise in Amsterdam, here are a few tips:
Arrive Early

: Arriving at least 15 minutes early ensures you get a good seat. The best views are usually from the boat's front or sides.

Listen to the Guide

: The live guide provides interesting information about the city's history and landmarks. Make sure to listen to their commentary.

Take Lots of Photos

: The views are phenomenal, so don't forget to take many photos. But also take some time to enjoy the sights without the camera.

Dress Warmly

: It can get chilly on the water, especially at night. Dress in layers to stay warm.
Above all, It's a unique opportunity to see Amsterdam from a different perspective
Reflecting on the Magic of Amsterdam's Night Canal Cruise
As your night canal cruise in Amsterdam ends, you'll be left with awe and wonder. The city's beauty, history, and vibrant culture will have left an indelible mark on you. You'll have experienced the magic of Amsterdam, a city as enchanting at night as it is during the day.
So, if you plan a trip to Amsterdam, include a night canal cruise. It's an experience you won't want to miss. The magic of Amsterdam waits to charm, surprise, and create memories you'll cherish forever.
Any Questions or Like to Book?