Romantic Boat Tour in Amsterdam: A Dreamy Sail to Love
If you're looking for a unique and memorable way to experience romance, look no further than Amsterdam's romantic boat tours. With its picturesque canals and charming ambiance, Amsterdam provides the perfect backdrop for a romantic adventure on the water. Whether you're celebrating a special occasion or want to spend quality time with your loved one, a romantic boat tour in Amsterdam is an experience you won't soon forget.
Why choose a boat tour for a romantic experience?
There's something undeniably special about being on a boat with your partner, gliding through the serene canals of Amsterdam. The gentle sway of the water, the enchanting atmosphere, and your vessel's privacy all create a truly romantic experience. Unlike traditional sightseeing tours, a boat tour allows you to escape the crowds and enjoy intimate moments with your loved one. It's a chance to connect, unwind, and create lasting memories.
Different types of romantic boat tours in Amsterdam
Amsterdam offers a variety of romantic boat tours to suit every couple's preferences. There's something for everyone, from candlelit evening rides to private boat rentals. Here are some of the options you can consider:
Lovers Canal Cruises - The Ultimate Romantic Boat Tour Experience
Lovers Canal Cruises is a well-known company that creates unforgettable romantic experiences on the water. Their canal tours are designed with couples in mind, offering a cozy and intimate setting for you and your partner to enjoy. With options for daytime or evening tours, you can choose the perfect time to set sail and soak in the beauty of Amsterdam's canals.
Canal Boat Tours for Couples in Amsterdam
If you prefer a more customized experience, consider booking a canal boat tour tailored to couples. These tours often include additional amenities such as champagne, chocolates, and a personal guide to enhance your romantic journey. You'll have the opportunity to explore the hidden gems of Amsterdam while enjoying the comfort and privacy of your boat.
Romantic Evening Boat Rides - Creating a Magical Atmosphere
An evening boat ride is a must for those seeking a truly magical experience. As the sun sets and the city lights come alive, Amsterdam's canals take on a new enchantment level. Picture yourself and your loved one surrounded by the soft glow of candlelight, sipping champagne while serenaded by the gentle sounds of the water. It's a romantic atmosphere that is sure to leave you breathless.
Celebrating Love on a Private Boat Tour in Amsterdam
If privacy is a top priority, consider renting a private boat for you and your partner. Allow you to create a personalized itinerary and enjoy an exclusive experience tailored to your desires. Cruise at your own pace, stop at romantic spots along the way, and bask in each other's company without interruptions. A private boat tour is the epitome of luxury and romance.
Renting a Party Boat for a Unique and Luxurious Romantic Experience
If you want to take your romantic boat tour to the next level, consider renting a party boat. These spacious and luxurious vessels allow you and your loved one to dance, dine, and celebrate love in style. With onboard catering options and a vibrant atmosphere, a party boat tour adds a touch of extravagance to your romantic escapade.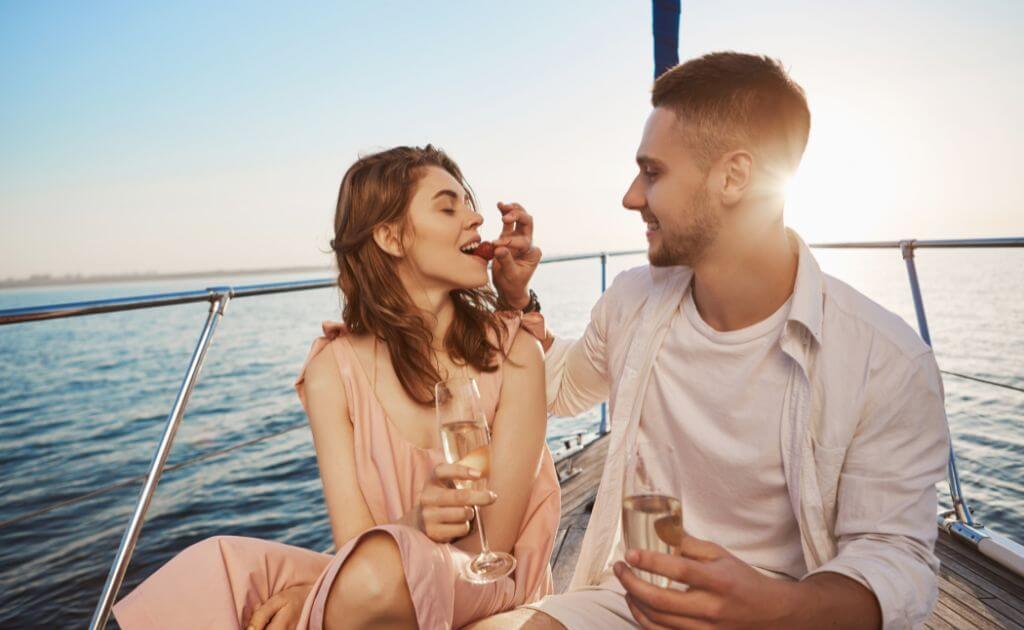 Sightseeing with Drinks - Adding a Touch of Romance to Your Boat Tour
For couples who enjoy a good drink while taking in the sights, boat tours offer a combination of sightseeing and drinks. Picture yourself sipping on a glass of wine or a cocktail as you float along the canals, admiring the stunning architecture and charming bridges. It's the perfect way to unwind, relax, and add a touch of romance to your boat tour.
Tips for a Memorable Romantic Boat Tour in Amsterdam
To ensure your romantic boat tour in Amsterdam is everything you've dreamed of, here are some tips to keep in mind:
Plan:

Book your boat tour to secure your preferred date and time. Popular tours can fill up quickly, especially during peak seasons.

Dress appropriately:

Check the weather forecast and dress accordingly. Amsterdam can be quite chilly, even during summer, so bring a jacket or blanket to stay warm and comfortable.

Capture the memories:

Bring a camera or smartphone to capture the special moments during your boat tour. The stunning scenery and romantic ambiance are perfect backdrops for beautiful photographs.

Arrive early:

Arriving early lets you settle in and get comfortable before setting sail. It also ensures you won't feel rushed and can fully enjoy the experience.

Relax and enjoy:

Remember, the purpose of a romantic boat tour is to relax, unwind, and enjoy each other's company. Leave your worries behind and immerse yourself in the beauty of the moment.
Experience Love on the Water with a Romantic Boat tour in Amsterdam
Amsterdam's romantic boat tours offer a unique opportunity to experience love on the water. Whether you choose a candlelit evening ride, a private boat tour, or a sightseeing adventure with drinks, you're guaranteed to create unforgettable memories with your partner. So why book your romantic boat tour in Amsterdam today and embark on a journey of love and romance? The canals are waiting, and an enchanting experience awaits you and your loved one.
Any Questions or Like to Book?